Clinical application of genetic testing for posterior uveal melanoma
International Journal of Retina and Vitreous
2016
2:4
Received: 3 October 2015
Accepted: 9 December 2015
Published: 1 February 2016
Abstract
Uveal melanoma is the most common primary intraocular tumor in adults, and it has a strong potential to metastasize. Traditionally, clinicopathological features of these tumors were used to provide a limited prediction of the metastatic risk. However, early genetic studies using karyotype analysis, fluorescence in situ hybridization, and comparative genetic hybridization of posterior uveal melanoma samples identified multiple chromosomal abnormalities associated with a higher risk of fatal metastasis. This correlation between specific genetic abnormalities in uveal melanoma and a patient's risk for development of metastasis has recently been widely studied, and the development of new prognostic tests has allowed clinicians to predict this metastatic risk with increased accuracy. Such novel tests include gene expression profiling, which analyzes the RNA expression patterns of tumor cells, and multiplex ligation-dependent probe amplification, which detects deletions or and amplifications of DNA in tumor cells. This review discusses the current status of prognostic testing techniques available to clinicians and patients for posterior uveal melanomas.
Keywords
Uveal melanomaChoroidal melanomaPrimary ocular tumorsPrognostic testingGene expression profilingGEPMultiplex ligation-dependent probe amplificationMLPA
Background
Posterior uveal melanoma (PUM) is the most common primary tumor of the eye, and it carries a high risk for metastasis, primarily to the liver. Approximately 50 % of patients with PUM will develop fatal metastases, and many patients will die within a year of their metastatic diagnosis [
1
]. Often, by the time metastatic disease is detectable on imaging studies, the tumor burden is substantial and therapeutic options are limited [
2
]. Given the potentially aggressive nature of these tumors, 97 % of patients reportedly desire prognostic information in order to make decisions about management and surveillance testing for metastasis from their uveal melanoma [
3
]. Traditionally, demographic and clinicopathologic features of these tumors have been used to determine the metastatic risk of a PUM. Such features as older patient age, larger tumor basal diameter, invasion of the sclera, ciliary body involvement, and epithelioid cell type have been associated with worse patient prognosis and a higher incidence of metastatic disease [
4
]. Although these identified risk factors are still widely used, their accuracy to predict metastatic potential has been shown to be limited. With the rapid development of new molecular techniques that allow for examination of the genetic make-up of tumor cells, more accurate prognostic information has become available to clinicians and patients. This prognostic information allows for personalized clinical decision-making and hopefully more targeted therapeutic options. Novel techniques such as gene expression profiling (GEP) and multiplex ligation-dependent probe amplification (MLPA) have improved upon the initial methods for genetic testing like karyotype analysis, fluorescence in situ hybridization (FISH), and comparative genomic hybridization (CGH). Although some of the methods described herein are not easily accessible throughout the world, it is important that physicians are up to date with the latest advances in the prognostication of PUM. In this manuscript, the authors review the recent developments and current status of prognostic testing of patients with PUM, what these tests analyze, and how their results can be applied in clinical practice (Fig.
1
).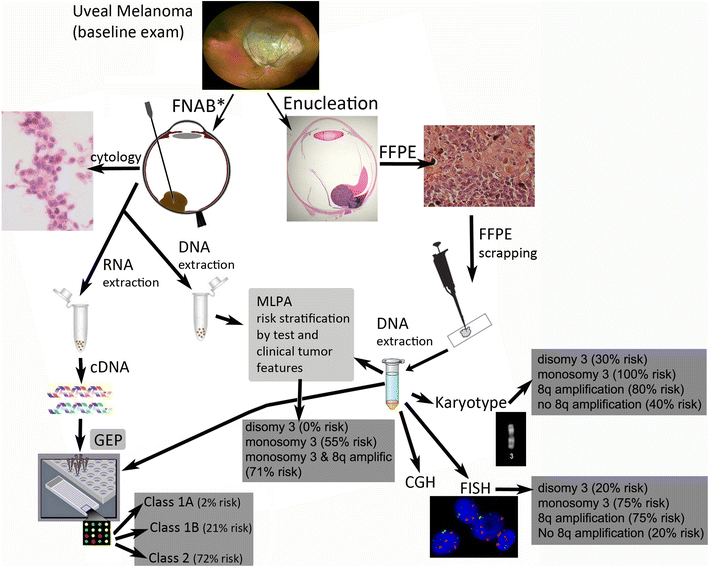 Discussion
While relatively new, prognostic testing is becoming an important component in the metastatic risk stratification of patients with PUM. Understanding the information obtained by each test and its application is fast becoming an important part of ocular oncology clinical practice. Table
1
briefly highlights features of different prognostic tests currently used for uveal melanoma. Although sensitive in detecting large chromosomal abnormalities such as monosomy 3, karyotype analysis, FISH, and CGH have largely been replaced by more recently developed prognostic tests like GEP and MLPA. GEP analyzes the RNA expression patterns of the tumor cells and provides a precise classification for metastatic risk. Whilst it carries a modest risk of mis-classification due to possible genetic heterogeneity in smaller tumors, it is the most robust independent predictor of metastatic risk for patients with uveal melanoma. MLPA detects deletions and amplifications of DNA in tumor cells, and it offers information about the common chromosomal abnormalities associated with metastatic risk in PUM. As MLPA identifies high rates of genetic heterogeneity in PUM, particularly in formalin-fixed and paraffin-embedded samples, correlation with the clinical and pathologic features of the tumors seems essential in providing patients with accurate information and makes test interpretation more complex and prognostication less clear. Further, the reported failure rate of MLPA is higher than GEP.
Table 1
Comparison of laboratory tests currently available for prognosis of posterior uveal melanomas
| | Karyotype | FISH | CGH | GEP | MLPA |
| --- | --- | --- | --- | --- | --- |
| Type of analyses | Chromosomes | DNA | DNA | RNA or DNA | DNA |
| Monosomy 3 detection | Yes | Yes | Yes | No | Yes |
| Tissue used | FFPE | FFPE | FFPE | FFPE or fresh | FFPE or fresh |
| Reported tumor heterogeneity | NR | NR | NR | 11.3 % | 75 % |
In short, there is significant discussion about which one of these is the best prognostic test for uveal melanoma? In the authors' opinion, the best prognostic test is one with the highest negative predictive value and fewer prognostic subgroups. Based on this premise, GEP should be the preferred prognostic test because it has the aforementioned features and is the only one validated prospectively in a multi-center clinical trial [15]. Whenever GEP testing is not available; FISH and MLPA provide comparable chromosomal information [26]. Because the accuracy of FISH and MLPA is not as high as GEP it is recommended that additional clinical information including patient demographic information, tumor features, histo and/or cytopathology be considered to improve their prognostic precision [27]. Centers where neither of these tests is available can resort to cytology for prognosis [28] but should also add clinical information to improve their prognostic accuracy [29].
Conclusions
Although the therapeutic options currently available for metastatic PUM are limited, patients still desire accurate prognostic information about their tumors at the time of diagnosis in order to plan their management. In the future, more standardized metastatic surveillance for those patients found to have aggressive tumors might allow for earlier detection of metastatic disease and improved clinical management. While these prognostic tests have not yet led to new therapies for PUM, they provide a critical step in the direction towards identifying specific therapeutic modalities that target the genetic abnormalities of these tumors.
Abbreviations
PUM:

posterior uveal melanoma
GEP:

gene expression profiling
MLPA:

multiplex ligation-dependent probe amplification
CGH:

comparative genomic hybridization
FISH:

fluorescence in situ hybridization
Declarations
Authors' contributions
VJS conducted a literature review, drafted the initial manuscript, and participated in the revision of the manuscript. ZMC assisted with the literature view, revised and edited the manuscript, and approved the final manuscript. Both authors read and approved the final manuscript.
Competing interests
The authors declare that they have no competing interests.
Open AccessThis article is distributed under the terms of the Creative Commons Attribution 4.0 International License (http://creativecommons.org/licenses/by/4.0/), which permits unrestricted use, distribution, and reproduction in any medium, provided you give appropriate credit to the original author(s) and the source, provide a link to the Creative Commons license, and indicate if changes were made. The Creative Commons Public Domain Dedication waiver (http://creativecommons.org/publicdomain/zero/1.0/) applies to the data made available in this article, unless otherwise stated.
Authors' Affiliations
(1)
University of Cincinnati College of Medicine, Cincinnati, USA
Copyright
© Schopper and Correa. 2016