Clinical applications of fundus autofluorescence in retinal disease
International Journal of Retina and Vitreous
2016
2:12
Received: 10 December 2015
Accepted: 15 February 2016
Published: 8 April 2016
Abstract
Fundus autofluorescence (FAF) is a non-invasive retinal imaging modality used in clinical practice to provide a density map of lipofuscin, the predominant ocular fluorophore, in the retinal pigment epithelium. Multiple commercially available imaging systems, including the fundus camera, the confocal scanning laser ophthalmoscope, and the ultra-widefield imaging device, are available to the clinician. Each offers unique advantages for evaluating various retinal diseases. The clinical applications of FAF continue to expand. It is now an essential tool for evaluating age related macular degeneration, macular dystrophies, retinitis pigmentosa, white dot syndromes, retinal drug toxicities, and various other retinal disorders. FAF may detect abnormalities beyond those detected on funduscopic exam, fluorescein angiography, or optical coherence tomography, and can be used to elucidate disease pathogenesis, form genotype-phenotype correlations, diagnose and monitor disease, and evaluate novel therapies. Given its ease of use, non-invasive nature, and value in characterizing retinal disease, FAF enjoys increasing clinical relevance. This review summarizes common ocular fluorophores, imaging modalities, and FAF findings for a wide spectrum of retinal disorders.
Keywords
Fundus autofluorescenceRetinaImagingLipofuscinAge related macular degenerationCentral serous retinopathyMacular dystrophyRetinitis pigmentosaWhite dot syndromeHydroxychloroquine
Background
Fundus autofluorescence (FAF) is a non-invasive imaging technique that detects fluorophores, naturally occurring molecules that absorb and emit light of specified wavelengths [1]. To produce autofluorescence, a fluorophore absorbs a photon of the excitation wavelength, which elevates an electron to an excited, high energy state. The electron dissipates some energy through molecular collisions, then emits a quantum of light at a lower energy and longer wavelength as it transitions back to ground state. Classically, FAF utilizes blue-light excitation, then collects emissions within a preset spectra to form a brightness map reflecting the distribution of lipofuscin, a dominant fluorophore located in the RPE. FAF may use other excitation wavelengths to detect additional fluorophores, such as melanin with near-infrared autofluorescence.
First described by Delori in the 1980s, FAF has since expanded in both scope and practice [1]. Given the unique findings not identified with funduscopic examination, fundus photography, or fluorescein angiography, FAF is useful in the evaluation of a diverse spectrum of diseases involving the retina and RPE, including degenerative, dystrophic, inflammatory, infectious, neoplastic, and toxic etiologies. This review summarizes the known ocular fluorophores, various imaging modalities, and broad clinical applications of FAF.
Ocular fluorophores: lipofuscin, A2E, and other ocular fluorophores
Commonly used fundus autofluorescence (FAF) imaging systems
Commercially available FAF systems include fundus cameras, confocal scanning laser ophthalmoscopes (cSLO), and ultra-widefield technologies (Table
1
). Limitations of FAF include a low signal strength (two orders of magnitude less than the peak signal of fluorescein angiography) and autofluorescence artifact from anterior segment structures. In addition, the blue-light excitation beam may cause patient discomfort and be potentially toxic to the retina, although there have been no formal studies demonstrating the adverse effects of FAF. The various imaging modalities have utilized different strategies to address these shortcomings.
Table 1
Fundus autofluorescence imaging modalities. Excitation wavelengths, barrier filters, fields of view, advantages, and disadvantages of commercially available FAF systems. Although some systems use multiple wavelengths, only the FAF excitation wavelength is provided
| Imaging modality | Fundus autofluorescence imaging systems | Excitation wavelength | Barrier filter (nm) | Field of view | Advantages | Disadvantages |
| --- | --- | --- | --- | --- | --- | --- |
| Fundus camera | | | | | Better for visualizing exudative retinal disease, red-shifted wavelengths decrease absorption by macular pigments and reduce lens interference, can be used with FA, color imaging, decreased motion artifact, more comfortable for patient | No real-time averaging, poor contrast, capture more reflected and scattered light, prone to pseudo-autofluorescence |
| | Topcon TRC-50DX | 535–585 nm | 615–715 | 20, 35, 50 | Non-mydriatic, also offers FA, ICG | |
| | Zeiss Visucam 224/524 | 510–580 nm | 650–735 | 30, 45 | Non-mydriatic. Visucam 524 with FA and optional ICG | |
| | Canon CR-2 plus AF (non mydriatic) | 530–580 | 640 | 35, 45 | Non-mydriatic, also offers cobalt setting | |
| Confocal scanning laser ophthalmoscope (cSLO) | | | | | Confocal optics reduces interference from the lens, real-time averaging, high contrast, high resolution, decreased scattered light | Excitation beam is absorbed by macular pigments, cannot be preceded by fluorescein angiography, fixation loss, monochromatic, patient discomfort |
| | Heidelberg retinal angiograph (HRA 2) | 488 nm | 500 | 20, 30, 55 | No longer commercially available | |
| | Heidelberg spectralis | 488 nm | 500 | 20, 30, 55 | Also offers red-free, FA, ICG, simultaneous FA/ICG, infrared reflectance, multicolor imaging, dual wavelength technology can calculate macular pigment density, spectral domain OCT | |
| | Zeiss prototype SM 30 4024 (ZcSLO) | 488 nm | 521 | 20, 40 | No longer commercially available | |
| | Rodenstock (RcSLO) | 488 nm | 515 | 20, 40 | No longer commercially available | |
| | Nidek F-10 | 490 nm | 510 | 40, 60 | Also offers multicolor imaging, retro-mode, FA, ICG | |
| Widefield cSLOs | | | | | Detects peripheral findings, non-mydriatic, brief image acquisition time, can be used with FA | Disadvantages vary by system and lens |
| | Optos ultra-widefield | 532 nm, 633 nm | 540 | 200 | Decreased absorption by macular pigments, also offers color fundus, red-free, FA, ICG | No real-time averaging, poor contrast, distortion of peripheral retina, view limited in superior and inferior quadrants, lid/lash artifact |
| | Staurenghi lens | N/A | N/A | 150 | Lens attaches to cSLO | Requires placement of contact lens |
| | Heidelberg ultra-widefield lens | N/A | N/A | 105 | Lens attaches to HRA or Spectralis. High contrast, non-distorted images, no lid/lash artifact, can be used with fluorescein angiography | Smaller field of view, view limited in nasal and temporal quadrants |
Fundus autofluorescence imaging in clinical practice
The signal intensity on FAF images depends on the concentration of lipofuscin and to a smaller degree, other fluorophores as discussed above. Lesions can be categorized as hyper-autofluorescent (Fig.
4
a), hypo-autofluorescent (Fig.
4
b), or iso-autofluorescent, and result from various retinal pathological mechanisms.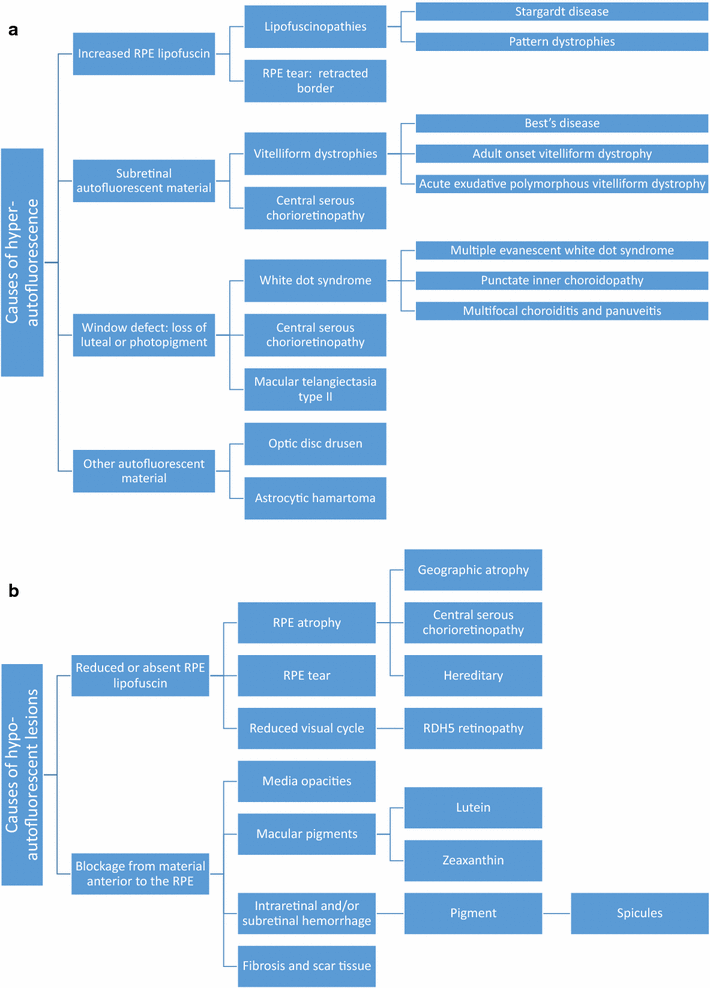 Autofluorescent patterns result from the complex interaction of fluorophores such a lipofuscin, which release an autofluorescent signal, and elements such as melanin and rhodopsin, which absorb the excitation beam and attenuate autofluorescence. Other structures such as retinal vessels and the crystalline lens may also influence autofluorescence through blocking and interference. Spatial variations in normal background autofluorescence reflect the distribution of lipofuscin and other fluorophores, which in turn reflect the distribution of photoreceptors and RPE cells. Meanwhile, the overall intensity of the autofluorescent signal is determined by individual factors such as age [5], light exposure [76], genotype, etc.
A large portion of hyper-autofluorescent lesions results from alterations in lipofuscin metabolism. Accumulation of lipofuscin in RPE cells, accumulation of bisretinoids in photoreceptor outer segments, and photooxidation of bisretinoids in lipofuscin can all contribute to enhanced autofluorescence [77]. Specific mechanisms vary by disease, ranging from the inability to clear bisretinoids from photoreceptor cells in Stargardt disease [78] to superimposed RPE cells in geographic atrophy (GA) of age-related macular degeneration (AMD) [79]. Accumulation of subretinal vitelliform material in Best disease, adult onset vitelliform maculopathy, and other acquired vitelliform disorders is another classic etiology of hyper-autofluorescence. Hyper-autofluorescence can also result from a window defect due to loss of rhodopsin, which normally absorbs the excitation wavelength and decreases autofluorescence. Rhodopsin attenuation and hyper-autofluorescence can occur physiologically as seen in the bleaching effect. In disease, photoreceptor degeneration and loss of rhodopsin unmasks the autofluorescent signal of the underlying RPE, creating hyper-autofluorescent lesions such as in white dot syndromes and other pathologies [80]. Fluorophores other than lipofuscin, including optic disc drusen, can also form hyper-autofluorescent lesions.
In contrast, hypo-autofluorescence can arise from decreased lipofuscin or blockage by material anterior to the RPE/photoreceptors. Perhaps the most striking example of hypo-autofluorescence due to decreased lipofuscin is the absence of autofluorescence at the site of RPE tears, where the RPE is completely denuded [81]. Other pathologies involving decreased lipofuscin include RPE atrophy in GA and visual cycle defects in fundus albipunctatus. Meanwhile, blockage can occur from any material anterior to the RPE/photoreceptors, including physiologic structures such as blood vessels and macular pigments, and pathologic structures such as media opacities, intraretinal or subretinal hemorrhage, and fibrosis.
Age-related macular degeneration
Affecting 6.5 % of Americans over 40 years old, AMD can be associated with vision loss in both non-neovascular and neovascular forms of disease [82]. FAF can be an important tool to monitor non-neovascular AMD—especially GA, the second most important etiology of severe vision loss in AMD after choroidal neovascularization [83].
In early non-neovascular AMD, FAF may show hyper and hypo-autofluorescent areas that reveal more widespread disease than appreciated with fundoscopy or color photography. Hyperpigmented lesions may represent melanin granules, which correlate with hypo-autofluorescence, or melanolipofuscin granules, which correlate with hyper-autofluorescence [84]. Depigmented, hypo-autofluorescent areas correspond to RPE atrophy, which may signal early geographic atrophy [84, 85]. In 2005, the International FAF Classification Group defined eight phenotypic FAF patterns associated with early non-neovascular AMD: normal, minimal change, focal increase, patchy, linear, lace-like, reticular, and speckled [86].
Central serous chorioretinopathy
CSCR most often presents as a serous retinal detachment that results from choroidal dysfunction and idiopathic leakage from the RPE into the subretinal space. During the initial presentation of CSCR, 72–96 % of cases show hypo-autofluorescence corresponding to the focal leakage site on fluorescein angiogram and to the area of serous retinal detachment, due to blockage by subretinal fluid [
111
–
113
]. A subset of patients may show localized RPE detachment, corresponding with focal hyper-autofluorescence. As the disease progresses, subsequent FAF images show granular hyper-autofluorescence, with increased number and size of hyper-autofluorescent dots corresponding to subretinal precipitates on OCT (Fig.
8
a, b) [
113
]. This material represents photoreceptor debris and macrophages accumulating in the subretinal space due to separation of the neurosensory layer from the RPE [
114
,
115
]. The hyper-autofluorescent precipitates gravitate inferiorly or collect at the borders of the detachment. In chronic cases lasting longer than 6 months, 85 % showed hypo-autofluorescent atrophic gravitational tracts that correlate to prior dependent subretinal fluid (Fig.
8
c) [
111
,
114
].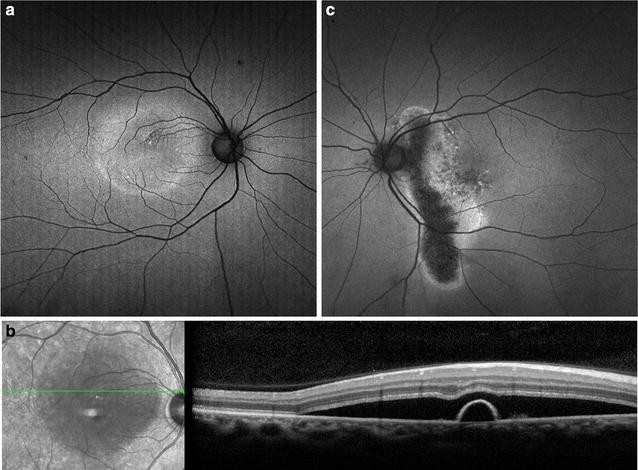 Near-infrared FAF is more sensitive for CSCR than conventional short-wavelength FAF, with short-wavelength FAF revealing 83.2 % of abnormalities compared to 100 % by near-infrared FAF [116]. Ultra-widefield FAF can aid in the diagnosis and monitoring of CSCR [117]. Pang et al. found that 57 % of CSCR cases had extensive involvement of the peripheral retina. Abnormal hyper-autofluorescent lesions in the periphery could indicate active disease and warrants further evaluation by SD-OCT and indocyanine green angiography [118].
Retinitis pigmentosa
Retinitis pigmentosa (RP) refers to a genetically heterogeneous group of retinal dystrophies characterized by the degeneration of rod photoreceptors. Mutations in the RHO (rhodopsin) gene are most common in autosomal dominant RP, mutations in the USH2A (Usher's type 2) gene are most common in autosomal recessive RP, and RPGR and RP2 gene mutations are most common in X-linked RP. Patients may exhibit an annular scotoma in the mid-periphery that progressively extends towards the fovea, eventually involving cone photoreceptors and impinging on central vision. Electroretinography (ERG) is the gold standard modality for diagnosis and monitoring of disease progression, but loses clinical value in advanced disease [144]. As such, FAF is a viable supplemental imaging modality to monitor RP and correlate phenotype with genotype [145].
A retrospective, observational case series by Murakami et al. identified three subsets of RP on FAF, where 59 % of patients had a hyper-autofluorescent parafoveal ring not visible on funduscopic exam, 18 % had abnormal central hyper-autofluorescence extending centrifugally from the fovea, and 24 % had neither pattern [
146
]. The hyper-autofluorescent ring, known as the Robson-Holder ring, corresponds to the border of inner/outer segment junction disruption (Fig.
10
). OCT analysis shows complete photoreceptor loss outside of the ring, with the external limiting membrane in direct apposition to the RPE [
147
,
148
]. The ring itself corresponds to outer segment dysgenesis and lipofuscin production, while normal retina lies within the ring [
144
,
149
–
151
]. Spatial preservation of retinal sensitivity as measured by multifocal ERG correlates with the radius of the autofluorescent ring, indicating intact retinal sensitivity inside the ring but none outside [
152
]. In addition, the size of the ring correlates with visual function as measured by both kinetic and automated perimetry; the more the ring encroached centrally, the more constricted the visual field [
153
]. Serial imaging of this hyper-autofluorescent ring may help determine the stability or rate of progression of the disease, providing a useful tool for delineating prognosis in different patients [
147
].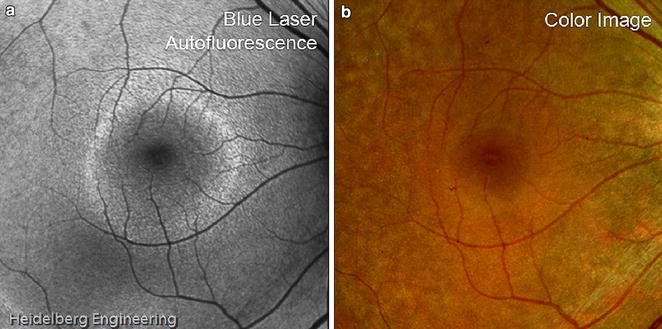 Similar hyper-autofluorescent rings are also seen in several other retinal dystrophies, including Leber congenital amaurosis (LCA), bull's eye maculopathy, X-linked retinoschisis, Best macular dystrophy, cone dystrophy, and cone-rod dystrophy [149]. This shared phenotype on FAF suggests an underlying common mechanism for the pathogenesis of retinal dystrophies.
Choroideremia
Choroideremia is an X-linked recessive defect in the CHM protein, which encodes the rab escort protein (REP1). Beginning in adolescence, male carriers experience night blindness and visual field constrictions due to centripetal atrophy of the choroid, RPE, and photoreceptor layer, though the macula is spared [154].
FAF shows bilateral, symmetric, midperipheral zones of hypo-autofluorescence due to RPE atrophy, which have scalloped edges with a preserved area of central stellate autofluorescence (Fig.
11
) [
155
]. The atrophic zones extend with age and eventually involve the fovea [
156
]. Recent work on gene therapy for choroideremia has shown promising preclinical results and is currently undergoing clinical trials, with the first treatment administered in 2011 [
157
,
158
]. FAF is an accurate structural marker that correlates with visual acuity and age, and may help identify candidates for gene therapy [
154
].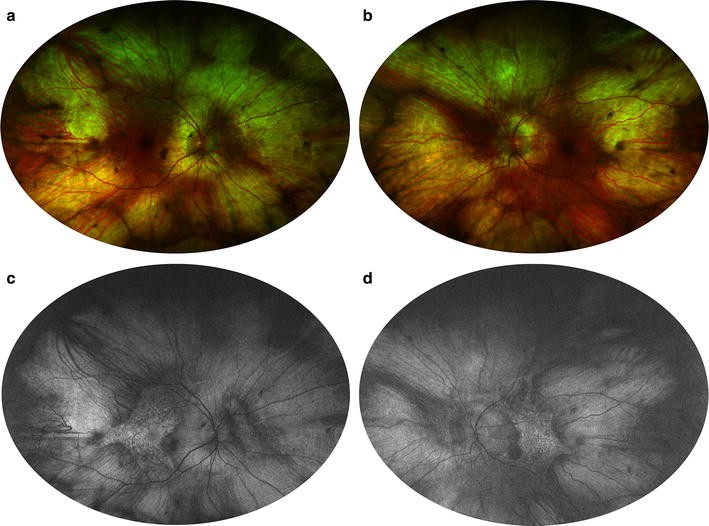 Interestingly, FAF of asymptomatic female carriers of the CHM mutation show a peripheral speckled pattern of hyper-autofluorescence corresponding to lipofuscin accumulation from photoreceptor degeneration and hypo-autofluorescence due to RPE atrophy [156, 159, 160]. In conjunction with genetic testing, FAF is a useful for evaluating female relatives of affected patients.
Fundus albipunctatus
Fundus albipunctatus results from an autosomal recessive defect in RDH5, which encodes a retinol dehydrogenase in the RPE [161]. Patients are unable to oxidize 11-cis-retinol to 11-cis-retinal, and this impairment of rhodopsin recycling delays the regeneration of photoreceptor pigments, manifesting as delayed dark adaptation and stationary night blindness [162]. Similar to Stargardt disease, fundus albipunctatus presents as a flecked retina syndrome, with white-yellow subretinal spots in the midperiphery on funduscopy.
As a hereditary defect in the visual cycle, fundus albipunctatus causes decreased lipofuscin production and severely attenuated background autofluorescence [
163
]. Images appear grainy [
164
]. FAF may also show hyper-autofluorescent foci corresponding to the white dots, though not all lesions produce autofluorescence (Fig.
12
) [
165
]. SD-OCT through these lesions reveal dome shaped hyperreflective material extending from the RPE past the photoreceptor layer [
156
]. Hyper-autofluorescent crescents or concentric parafoveal rings have also been reported [
165
].

Fundus albipunctatus must be differentiated from diseases with similar presentations. Retinitis punctata albescens is also associated with white punctate retinal lesions on the retina and night blindness. This disease is due to an autosomal recessive mutation in RLBP1 encoding CRALBP, which binds to 11-cis-retinol and 11-cis-retinal during the visual cycle [166]. However, retinitis punctata albescens is a severe progressive retinal dystrophy with narrowed vessels, pigmentary degeneration, and visual field loss [166]. Meanwhile, RPE65 encodes an isomerase which acts one step upstream of retinol dehydrogenase in the visual cycle and also results in decreased background autofluorescence on FAF [167]. In contrast to fundus albipunctatus, mutations in RPE65 result in a more severe disease course and are associated with LCA and early onset rod-cone dystrophy [168].
White dot syndromes
White dot syndromes refer to a diverse spectrum of inflammatory chorioretinopathies characterized by multifocal, small, yellow-white lesions scattered throughout the posterior pole and/or peripheral fundus. Despite this shared phenotypic presentation, the individual diseases are not related in pathogenesis, management, or prognosis [169].
Multiple evanescent white dot syndrome (MEWDS)
This disease affects young, healthy women 20–50 years old and manifests as a self-limited, unilateral presentation with multifocal 100–200 µm white spots scattered in the paramacular and mid-peripheral fundus [170].
On FAF, the multifocal lesions have increased signal strength due to photoreceptor loss and unmasking of natural RPE autofluorescence (Fig.
13
) [
80
,
171
]. Hypo-autofluorescent foci at the fovea correspond with foveal granularity on exam and accumulation of hyper-reflective material interdigitating between the RPE and photoreceptor layer on OCT [
170
]. FAF reveals more lesions than on clinical exam or FA, though less than seen on indocyanine green angiography [
172
,
173
], and FAF may be used in lieu of FA and ICG due to its high sensitivity, greater ease of use, and non-invasive nature of administration.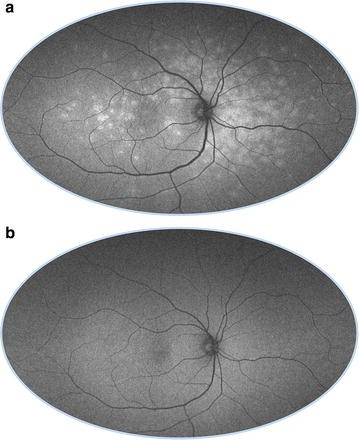 Punctate inner choroidopathy (PIC)
A diagnosis of exclusion, PIC refers to the presence of multifocal choroidal lesions in the absence of uveitis or presumed ocular histoplasmosis (POHS). This disease tends to occur in young, myopic women and is associated with the development of choroidal neovascularization and subsequent vision loss [174].
Active PIC lesions present as sub-RPE chorioretinal nodules, which may display minimal hyper-autofluorescence or become hypo-autofluorescent spots as the nodules break through the RPE [175]. These hypo-autofluorescent spots often have a hyper-autofluorescent margin, corresponding to a window defect of surrounding photoreceptor loss on SD-OCT [171, 175]. Meanwhile, the majority of atrophic lesions appear as isolated hypo-autofluorescent spots. A subset of patients present with hypo-autofluorescent spots associated with diffuse hyper-autofluorescent patches, 90 % of which were identified as concurrent MEWDS on multimodal imaging [171]. Similar to the choroidal neovascularization seen in ARMD, choroidal neovascularization in PIC presents as foci of slight hypo- or hyper-autofluorescence with a surrounding hyper-autofluorescent ring [175]. Additional reports have found that FAF and ultra-widefield FAF can be useful for detecting changes in eyes with PIC that are not evident on clinical exam [176, 177].
Drug toxicity
Hydroxychloroquine toxicity
Hydroxychloroquine is an inexpensive and well-tolerated anti-inflammatory agent. However, the risk for ocular toxicity rises sharply with cumulative dose, especially with doses over 1000 g [178]. In addition, because the drug is not retained in fatty tissues, individuals who are obese or have short stature are at risk for overdosage [179].
In Caucasian populations, hydroxychloroquine toxicity causes irreversible parafoveal photoreceptor loss with foveal sparing, resulting in paracentral scotomas. FAF shows a hyper-autofluorescent parafoveal ring corresponding to photoreceptor damage, which decreases in signal strength over time due to RPE atrophy (Fig.
14
b) [
180
]. However, Asian populations tend to show a pericentral pattern of photoreceptor loss occurring well outside the parafoveal zone, with an odds ratio of 27.1 compared to the parafoveal pattern (Fig.
14
d). Pericentral presentations tend to be diagnosed at higher cumulative dosages and at later stages of disease than parafoveal presentations, indicating that pericentral patterns are not as easily recognized on screening [
181
]. Late manifestations of the disease include bilateral bull's eye maculopathy. If the drug regimen is not halted, the area of depigmentation may spread to involve the central fovea and even the entire fundus.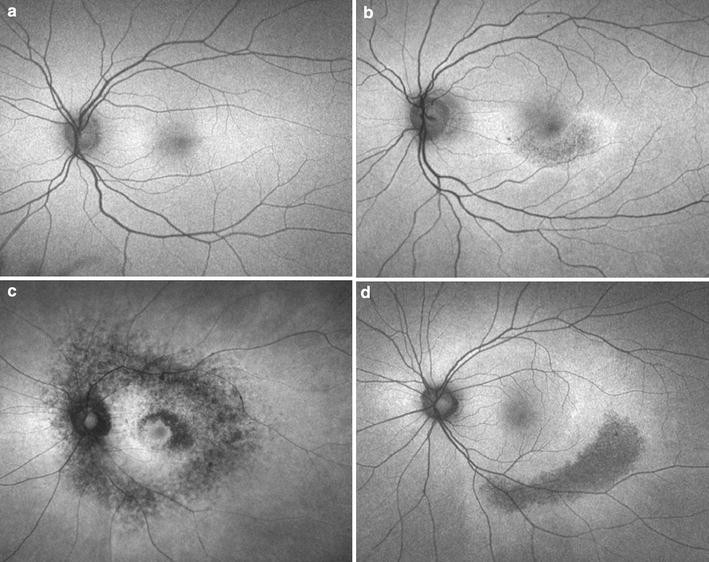 Screening guidelines for hydroxychloroquine toxicity by the American Academy of Ophthalmology recommend annual examinations starting at 1 year of use and annual evaluation with diagnostic testing including SD-OCT, perimetry, and mf-ERG [179, 182]. Compared to multi-focal ERG, FAF has a sensitivity of 73.7 % and is best used as a component of multi-modal imaging in the screening process [183, 184].
Didanosine-induced retinal toxicity
Didanosine (DDI) is a nucleoside reverse transcriptase inhibitor (NRTI) that was previously one of the mainstays for HIV treatment. However, this drug also inhibits the synthesis of mitochondrial DNA (mtDNA), resulting in mitochondrial toxicity and in rare cases precipitating a retinopathy similar to those seen in other mitochondrial disorders [
185
]. In the six cases described in the literature, adult DDI toxicity presents as sharply demarcated, midperipheral, concentric chorioretinal atrophy [
186
–
189
]. Widefield FAF is essential in making the diagnosis and shows a characteristic mottled hyper-autofluorescence and hypo-autofluorescence in the midperiphery that spares the central macula (Fig.
15
) [
187
]. More advanced cases will show confluent midperipheral hypo-autofluorescent atrophy in each eye.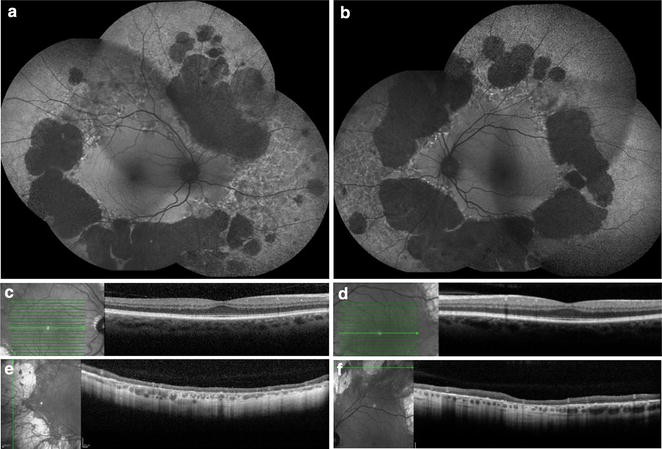 Deferoxamine-induced retinal toxicity
As an iron chelator, deferoxamine is used to treat iron overload, such as in patients requiring chronic transfusions. Although the mechanism is not well understood, deferoxamine may injure the retina through direct toxic effects on RPE cells or chelation-induced iron, zinc, or copper deficiencies [190–192]. Deferoxamine retinopathy has various reported funduscopic manifestations, including pigmentary changes with RPE mottling, vitelliform lesions, and bull's eye maculopathy [193–195].
FAF is more sensitive than ophthalmoscopy for detecting deferoxamine-induced retinal alterations and can be used to screen patients for toxicity and identify patients at high-risk for vision loss [196]. In a prospective case control study of 197 patients with β-thalassemia who received deferoxamine, 18 patients developed FAF abnormalities. Viola et al. characterized four distinct FAF patterns: minimal change, focal, patchy, and speckled patterns [196]. Patients with the minimal change pattern had the lowest incidence of vision deterioration, while patients with the patchy or speckled pattern had the most severe vision loss [196].
Conclusion
Fundus autofluorescence provides information on the metabolic state and overall health of the RPE, and indirectly, the photoreceptor layer. Many imaging systems are available, each utilizing different optical properties that have distinct advantages and disadvantages. FAF is now an important tool for the evaluation of the prognosis and progression of geographic atrophy in AMD and for the phenotypic characterization of retinal dystrophies. FAF is also critical in the diagnosis of white dot syndromes and drug toxicities, among other entities. The applications of this simple, noninvasive imaging modality will continue to evolve and may replace more invasive procedures such as fluorescein angiography.
Abbreviations
FAF:

fundus autofluorescence
RPE:

retinal pigment epithelium
AMD:

age-related macular degeneration
cSLO:

confocal scanning laser ophthalmoscopy
A2E:

N-Retinyl-N-retinylidene ethanolamine
HRA:

Heidelberg retinal angiograph
GA:

geographic atrophy
PED:

pigment epithelial detachment
GPS:

fine granular with peripheral punctate spots
CSCR:

central serous chorioretinopathy
AEPVM:

acute exudative polymorphous vitelliform maculopathy
RP:

retinitis pigmentosa
ERG:

electroretinography
LCA:

leber congenital amaurosis
MEWDS:

multiple evanescent white dot syndrome
PIC:

punctate inner choroidopathy
POHS:

presumed ocular histoplasmosis syndrome
DDI:

didanosine
NRTI:

nucleoside reverse transcriptase inhibitor
mtDNA:

mitochondrial DNA
Declarations
Authors' contributions
MY completed the literature review, drafted the manuscript, and wrote the figure legends. MAK proofread the manuscript and figure legends, and provided important guidance during drafting of the manuscript. DS provided the figures, proofread the manuscript and figure legends, and provided important guidance and oversight during the entire drafting process. All authors read and approved the final manuscript.
Acknowledgements
Dr. Srivinas Sadda and Dr. Sam Yang for contributing photos.
Competing interests
David Sarraf, MD has received research Grants from Genentech and Regeneron, and a research machine from Optovue. The authors declare that they have no competing interests.
Open AccessThis article is distributed under the terms of the Creative Commons Attribution 4.0 International License (http://creativecommons.org/licenses/by/4.0/), which permits unrestricted use, distribution, and reproduction in any medium, provided you give appropriate credit to the original author(s) and the source, provide a link to the Creative Commons license, and indicate if changes were made. The Creative Commons Public Domain Dedication waiver (http://creativecommons.org/publicdomain/zero/1.0/) applies to the data made available in this article, unless otherwise stated.
Authors' Affiliations
(1)
Stein Eye Institute, David Geffen School of Medicine at University of California, Los Angeles, USA
(2)
Greater Los Angeles VA Healthcare Center, Los Angeles, USA